As you may have noticed, most solar generators use a Lithium-Ion (Li-ion) battery. These batteries used to be the newest and most efficient batteries in the industry until recently. A new type of battery known as the Lithium Iron Phosphate (LiFePO4) battery is taking over the industry now.
This new battery has better features, including durability, cost-effectiveness, and reliability. As a result, many manufacturers of portable solar generators are incorporating this new battery into their products. As the use of this battery type continues, it is necessary to examine its features and how it affects the performance of the solar generators using it.
In this article, we will review three of the best solar generators using LiFePO4 batteries, discussing their features, specifications, and benefits. You will also learn about the possible drawbacks of the use of these solar generators.
The three best LiFePO4 solar generators are the following:
Suaoki G1000
Renogy Lycan Powerbox
Patriot 1800
3 Best LiFePO4 Solar Generators (Quick View)
| Model/Feature | Suaoki G100 | Renogy Lycan Powerbox | Patriot Power 1800 |
| --- | --- | --- | --- |
| Battery Capacity | 1182Wh | 1075Wh | 768Wh |
| Expandable Battery | No | No | Yes |
| Weight | 51lbs | 55lbs | 40lbs |
| Warranty | One Year | One Year | One Year |
Overview of Suaoki G1000
Suppose you are in need of a reliable portable power station for both indoor and outdoor use. In that case, the Suaoki G1000 is one of the best options around. This power station features a powerful battery capable of supplying about 1,182Wh of electricity. With this amount of electricity at your disposal, you need not worry about powering your small and medium-sized gadgets and appliances.
Gadgets and appliances such as laptop computers, smartphones, TV sets, microwave ovens, and the likes are all covered with this solar generator. You can also use the power station outdoors for powering lamps, CPAPs, and other camping and outdoor appliances that require electrical power.
Measuring 35 x 34.5 x 31.5 cm in size, the Suaoki G1000 is a compact product. It will be a task to move around long distances as it weighs 23kg (50lbs), but with short distances, this generator can be easily carried with two people due to its handles on each side. The combination of the dimensions and weight still make this power station portable and easy to handle.
The LiFePO4 battery in the power station is a significant advantage. It is strong and has a longer cycle life (up to four times that of the Lithium-Ion battery). It also has a UPS (Uninterrupted Power Supply) feature that makes it immune to power outages. As a result, the power station is suitable for emergencies.
This solar generator allows you to charge it with three different methods. These methods include solar charging with the aid of a solar panel, wall charging through an AC wall outlet, and car charging through a 12V cigarette port. This array of charging options means that you can charge the product wherever you are.
Features of the Suaoki G1000
LiFePO4 Battery:

The Suaoki G1000, as a result of its LiFePO4 battery, has 2,000 lifecycles. This amount of lifecycles, when combined with a continuous output rated at 1,000W and a battery capacity of 1,183Wh, this power station remains one of the strongest mid-range power stations with its specifications.

Inverter:

The power station has an inverter of 1,000W pure sine wave AC and reaches a peak power of 2,000W. With its four AC outlets, you can power as many as four laptops simultaneously.

Multiple Outlets

: The outlets on the power station allow for multiple simultaneous usages. This means that you can charge or power numerous devices at the same time. The outlets include five USB ports (two Type-A ports, two QC ports, and one PD port).

Cost: According to the manufacturer's website, the power station costs just over  $1,700. This is a competitive price for a solar generator of that size, capacity, and battery style; however, Suaoki has unfortunately discontinued this generator for the US market.
System Specifications
Dimension: 35.00 x 34.5 x 31.5 cm (13.78 x 13.58 x 12.4 in)

Battery Capacity: 1,183Wh

Weight: 23.00Kg

USB port Type A: 5V/2.4A

USB port Type C: 20V and 60W max

USB port QC: 5V – 12V/ 18W

AC: 1,000W and 2,000W peak value (Four outlets)

DC: 12V/10A (two outlets)
Charging Input
AC: 100V – 120V- 60Hz (200W)

Car: 12V/10A 24V/5A
Pros of the Suaoki G1000
The power station has an impressive battery capacity of 1,183Wh with numerous outlets, which means you can power lots of devices simultaneously.

The three charging methods ensure that the power station never runs out of power at any point in time.

The price of the solar panel is competitive and pocket-friendly when compared to the market standards.

It also possesses an LCD screen that provides information about the power station's operation, including battery percentage, the intensity of the sun, wattage, and many others. This information makes it easy for you to keep track of the Suaoki's operation.
Cons
The power station is relatively heavier than most power stations with the same specs. For example, the Jackery Explorer 1000 has only about 180Wh less battery capacity than the G1000, but weighs 30 lbs less!
Overview of Renogy Lycan Powerbox
As the name suggests, this solar generator from Renogy is a square-shaped powerbox. The generator has a battery capacity of 1,075Wh, which gives it the ability to power anything pulling up to 1,200W. With this amount of juice at your fingertips, you can enjoy hours of electricity both indoors (as an alternative source of electricity) and outdoors (as the primary source of electricity).
The power station also allows for easy movement and handling. It weighs 55 pounds but comes with two wheels that easily move over multiple terrains. These features make the Lycan Powerbox a suitable generator for outdoor use.
For the sake of convenience and easy usage, the power station comes with three charging methods. These methods include an AC wall outlet, a 12V auto socket, and a solar charging option. Each of these methods is fast and efficient, with the solar charging (three 100W solar panels) taking four hours and thirty minutes to fully charge the power station. The availability of these three methods ensures that the power station never runs out of power at any point in time.
It would be a great disservice not to talk about the battery type of this solar power station. This battery lasts longer than most solar generators on the market with a cycle life of 2,000 cycles to 80% capacity. Moreover, this power station allows you to add an external battery to extend its battery life. This means that you get to enjoy longer hours (if needed) of electricity with the Lycan Powerbox.
Features of the Renogy Lycan Powerbox
Easy to Use:

The power station is rugged and easy to move, making it ideal for outdoor use. It is also noiseless and fumeless, which makes it suitable for use within the household. Hence, in this power station, you get a complete electricity source for indoor and outdoor use.

LCD and Buttons:

The solar generator comes with an LCD display and AC/DC buttons. These features make for easy usage. The LCD display provides you with the details of the power station's operation. The buttons allow you to switch from one output mode to another.

Multiple Charging Methods:

It allows for three clean, safe, and fast means of charging. These include solar charging, car charging, and wall charging.

Multiple Outlets:

You also get multiple outlets for powering and charging many devices at the same time. As long as the capacity of the device(s) is under 1,200W, you are good to go.

LED Lights:

The solar generator also comes with an LED work light. This work light can serve as a lamp during sudden blackouts or when you are moving in a dark place.

Portability:

The power station comes with two multi-terrain wheels and a strong handle. These parts allow for easy handling and movement. Thus, if you are thinking of going for an outdoor event anytime soon, this power station may be a great option.

LiFePO4 Battery: The LiFePO4 battery of the Lycan Powerbox gives it about 2,000 cycles to 80% capacity. This battery chemistry is the longest-lasting and safest in today's solar generator market.
Cost: The Lycan Powerbox costs $1,199.99 (according to amazon.com). When compared with many solar generators with a similar capacity and specifications, the price is competitive.
System Specifications
Dimensions: 14.5 x 13.4 x 11.8 inches

Battery Capacity: 1,075Wh

Battery Voltage: 44.8V

Weight: 55lbs

USB port: 5V/2.4A (three outlets)

USB port: 1A (one port)

AC: 110V (three outlets)

DC: 12V/10A (two outlets)

Warranty: One year
Pros
The DC and AC outlets are well spaced and easy to access.

The wheels and handle attached to the power station make for easy handling and movement.

The power station has an impressive number of ports for multiple usages.

High power output of up to 1200W from the AC ports.
Cons
According to some users, when charging the battery from solar and charging it completely, the generator's battery status indicator may sometimes go from 100% charged to 0% and flash its "low battery" light as a warning. One user claims that all he had to do to get the battery status correct was to disconnect the solar panels from the generator and turn the power off and on again. Check out this YouTube video from CheapRVliving's channel to watch their first-hand account of this happening to them. 

Relatively expensive for its size.

Heavier than most other solar generators that are similar in size.
Overview of Patriot Power 1800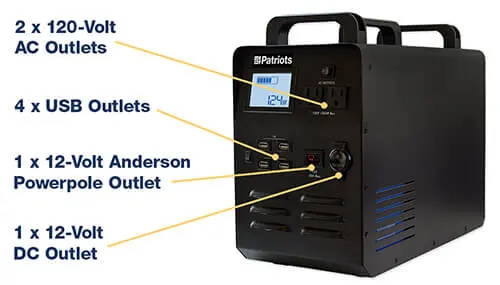 The Patriot Power 1800 is a heavy-duty solar generator that doles out up to 1,800W of continuous electricity, which means you can use it with power-hungry equipment such as a microwave, certain power tools, as well as full-size refrigerators. The Patriot Power 1800 is a clean, safe, and quiet source of electrical energy for both indoor and outdoor use.
Having just switched to the LiFePO4 battery, the manufacturers embedded some new features that make the power station even better than previous models. The new battery assures users of a longer lifespan as it has about 2,500 lifecycles. This translates to almost seven years (6.8 years) of daily use. Moreover, the LiFePO4 battery type means that the power station becomes more efficient, experiences less overheating, and has higher stability than any other type of battery.
One of the new features that come with the Patriot is the 52% spike in peak power. Now, the power station can handle as much as 3,048W from your electrical devices. This means that if you have appliances that require a high amount of power to start up, like an AC unit, the peak power will be suitable for this purpose. However, I always recommend checking the power requirements of what you intend to use the generator for in order to calculate if the generator can be used successfully for your intended purposes.
Also, there is a 28% increase in battery capacity. You now get 768Wh, whereas the Patriot 1500 (their previous model) only had 500Wh of battery capacity. This means more power for longer periods with the Patriot Power 1800. This increased capacity becomes even more useful with the number of outlets present on the body of the solar generator.
There are eight outlets, including two AC outlets, one DC outlet, four USB outlets, and one Anderson Powerpole outlet. The multiple outlets mean that you can run many devices on the solar generator at the same time without harming the generator's battery.
Despite its sizable output power, the power station is compact and portable, weighing only 40 pounds. What's more, it doesn't require any coupling and assembly. It comes assembled and fully charged.
Without taking anything away from its durability, the power station is rugged and strong. While it is not super heavy, it is strong enough to withstand a drop on the floor without undermining any of its components. Hence, you may want to think of the Patriot Power 1800 as a go-to option when camping on rough terrain.
The charging methods provided by the manufacturers of this power station make it ideal for off-grid use. You can charge it through AC wall outlets and solar panels. As a result of its new and efficient battery type, there is a 12.5% increase in charging speed when using AC wall outlets. You can also combine two or more solar panels to increase the power input and reduce the charging duration.
Features
MPPT:

This power station features an advanced charging technology that allows you to charge your power station efficiently. It also prevents overcharging or any battery damage that could occur as a result.

Increased Capacity:

The Power Patriot 1800 comes with many improved features from its predecessor, such as increased battery capacity, higher peak power, and faster charging speed.

Higher Battery Cycle Life:

This power station has one of the highest battery life cycle ratings in the industry, even for a LiFePO4 solar generator. While most LiFePO4 solar generators have battery life cycles at 2,000, the Power Patriot 1800 has a whopping 2,500 lifecycles. This means that if you use the solar generator every day, the battery will last almost seven years.

Portable and Compact:

Weighing 40 pounds, the solar generator is relatively average compared to other models with similar specifications. It is also rugged and strong enough to withstand rough handling and terrain.
System Specifications
Battery Capacity: 768Wh

Battery Voltage: 12V

Inverter: 1,800W continuous, 3,048W peak power

Solar Input: 240W

AC Outlets: 110V (Two outlets)

DC Outlets: 12V (One outlet)

USB ports Type-A: Four Outlets

Warranty: One year
The Patriot Power 1800 comes with a lot of gift items. By the estimation of the manufacturer, these gift items are worth about $600. They include:
Patriot Power Cell for Phones

Solar Kettle/Water Heater

Tactical Flashlight

Solar Air Lantern

Rechargeable Battery Kit

72-Hour Survival Food Kit

Solar Panel Extension Cord (25 Foot)

100W Solar Panel
The Patriot Power 1800 solar generator can also power the following appliances:
USB Lamp: 384 hours

Phone: 128 hours

CPAP Machine: 13.8 hours

Electric Stove: 55 minutes

Microwave: 49 minutes

Fridge/Freezer: 16.3 hours
Pros
The power station has a high battery cycle life.

It is compact and strong.

The generator comes with additional items as a free bonus from the manufacturer.
Cons
The first disappointment comes from the battery capacity, which is the only 768Wh.

The number of AC outlets on the power station is also below par.

The solar input is below the industry average for its size.
Similar: WARNING: 5 Reasons Why the Patriot 1800 Solar Generator May Not Be Right for You
Conclusion
Overall, these three solar generators are some of the best with their battery type, but there are some other ones out there that are worth checking out as well. One example is the Bluetti AC200P, which is a quality generator that features wireless charging, a touchscreen for its LCD display, amongst many other high-performing technical specifications.
Continue Reading:
Bluetti EB150 vs EcoFlow Delta 1300 – Which Solar Generator is Best?
Goal Zero vs Anker – Which Company Reigns Supreme?